Immunology Tutorials
Each chapter contains three panels. The middle panel contains the full text of each chapter found in the printed textbook. Embedded in the text are words that can be clicked on to bring up various figures and images that are relevant to what is being read. The left column contains the table of contents for individual chapter(s) which can be expanded to reveal subsection listings allowing the reader to navigate quickly specific sections of the book. Clicking on the little arrow next to the right of the first left column will hide that column and make the middle section larger. The top bar contains various tools that allow one to access the Table of Contents, change the text size, go to the image gallery, go directly to the interactive learning (questions and answers), get a highlighter to highlight portions of the text, remove highlights, create notes and show notes, and access help. This bar can also be hidden by clicking on the arrow just below the bar. The right column contains expanded learning features, such as learning objectives for each chapter, images, animations, interactive questions and answers and other ways to expand one's ability to learn about a particular subject. New materials will constantly be added to this third column. This column can also be hidden by clicking on the arrow jus to the left of the column, and the hidden areas can be brought back by clicking on the small arrows at the fringes of the page.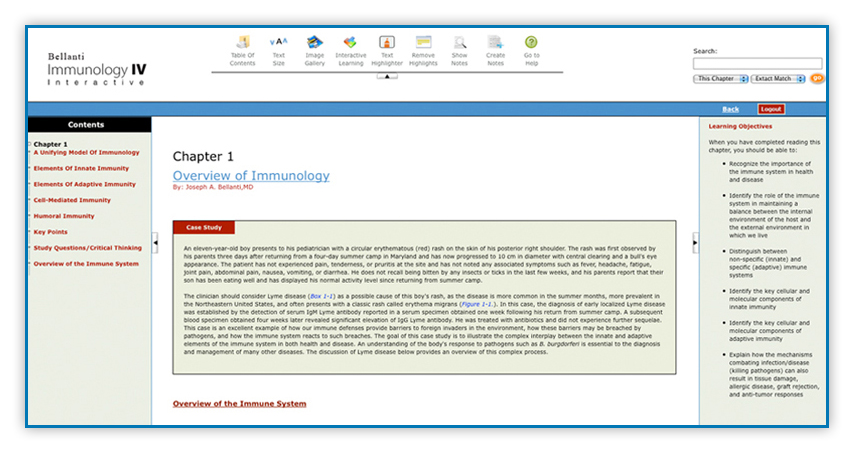 Each user can use this online textbook just like you would the printed version, adding highlighting and creating notes. Unlike the printed version, however, you can remove highlighting and change or delete your notes.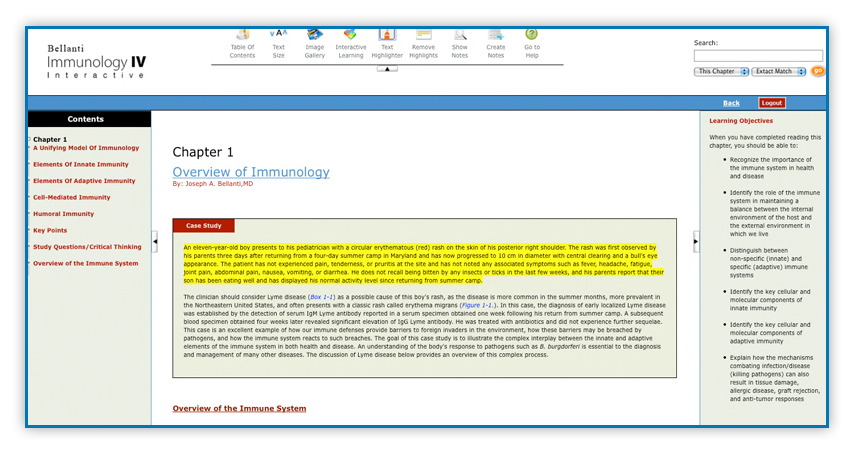 One of the unique features of this online interactive textbook is the ability to provide the reader with extremely high quality animations that accurately bring the working of the immune system to life. These professionally created videos have been carefully developed and thoughtfully narrated by Dr. Joseph A. Bellanti. These animations can be found in the margins throughout the chapters of the text of the online version and are described in the Animations tab under Interactive Learning as icons numbered 1 to 7. Clicking on the icon in the text margin will activate the animation. These animations cannot be reproduced without permission from the publisher.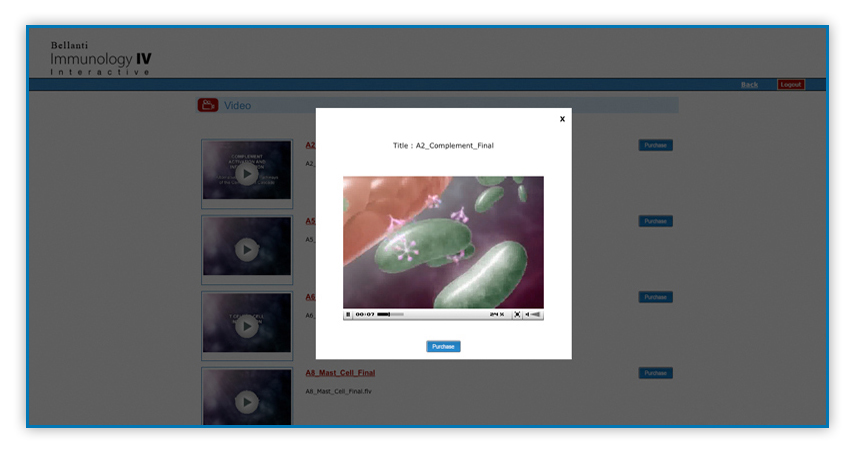 This section contains all of the figures found within a given chapter. The professionally created images in this book have been carefully developed and maintain an accurate and consistent format from chapter to chapter, thereby allowing the reader to fully grasp the written materials. Images can be accessed by clicking on the embedded image in the text or by going to the complete image gallery, which can be accessed via the top bar or in the right hand column of the book. These figures cannot be reproduced without permission from the publisher.